This page is a glimpse into what Scandinavia has to offer. Some of these places you can find by yourself, other will be easier to access with the assistance of an experienced friend or a good guide. But, for the rarest sights, you also need chance to be on your side to succeed.
Be inspired, enjoy, go out and explore Fantastic Scandinavia!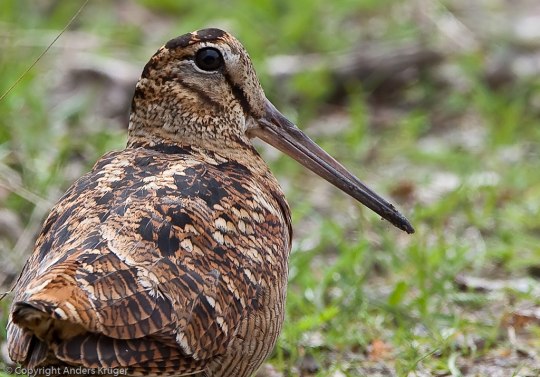 The woodcock, a rather common and characteristic bird in the woodlands. During its territory flights, it makes a very special sound enriching every outdoor activity at dawn and dusk.
To lie down in a sleeping bag on the shore line and fall asleep with the sounds of a calling loon, a grumbling woodcock and the sound from a love sick cuckoo, is as good as sleeping under Australia's black sky or in a tent on Africa's savanna with roaring lions around. This I can guarantee, because I know from experience!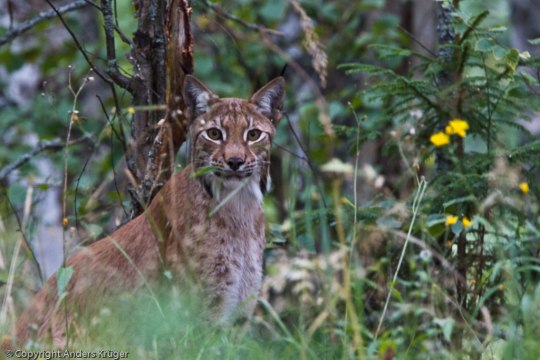 All our five big predators, i.e. wolf, bear, lynx, wolverine and eagle, can today be seen in mid and northern Sweden. But to see one you need to be in luck or spend a great deal of time out there. A better alternative is to look-up some authorized "feeder" who put out bait to attract bears and eagles. Not as exciting as finding them by yourself in a totally natural situation, but absolutely more thrilling than it sounds. To take photos of these rare and often skitty birds and animals, baiting is the only practical way, repeatedly having them to feed in the same spot.
The lynx is not easily attracted by bait, so you really need chance to be on your side to see one and even bigger luck to catch one with the camera. This photo is of a perfectly wild lynx, which had its hunting grounds close to my town Falun. This was a lucky day for me, you can say!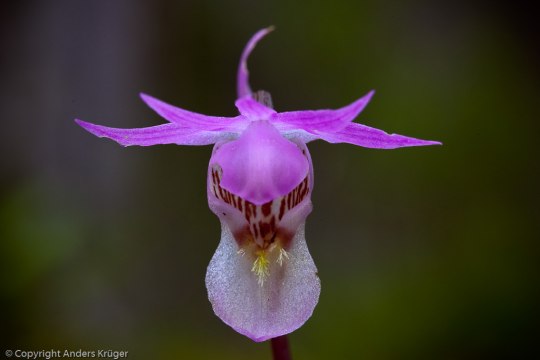 Flowers are amazing objects to photograph with their fantastic colors and shapes. Some of them fascinate more than others, like the orchids.
To see this elusive orchid "nornan" or fairy slipper (calypso bulbosa), with its bright colors, growing in the gloomy forest, makes an almost magical appearance when first seen. But even more magical is "skogsfrun" or ghost orchid (eipogium aphyllum), one of three saprophyte orchids that grew wild in Sweden. They can show up one year and then be gone for decades before they once again show up above the ground. It can only be found in the forests darkest places, usually close to some swampy area or small creek.
In this case it's not the beauty that makes this orchid interesting, but its elusiveness and mystics in folklore.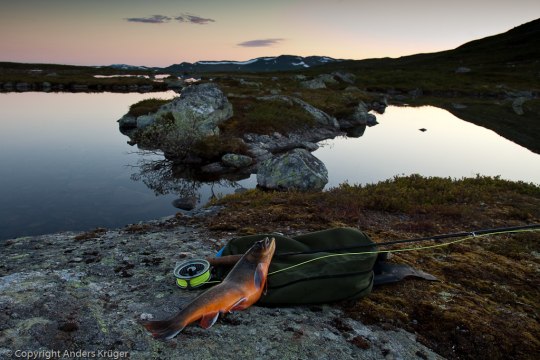 "The noble art of fly fishing", they say. I'm not so sure it's more noble than any other fishing, but it engage people in a fantastic way and do them come close to nature.
It combine "Neanderthal-catching-behavior", nature experience and skill, both technical and biological (behavior). You need to think, analyze and foresee the behavior to succeed. That's, I think, why flyfishing catches you so deep!
After a catch, what can be more satisfying than sitting in a pristine environment, just you and a friend(s), eating a salt/sugar marinated self caught arctic char, together with a creek-cold Clay Station (my favorite white wine)?
In my fly fishing gallery I share some of my moments that perhaps inspire you to take up this sport in a sound way.