Källslätten - an oasis in the woodland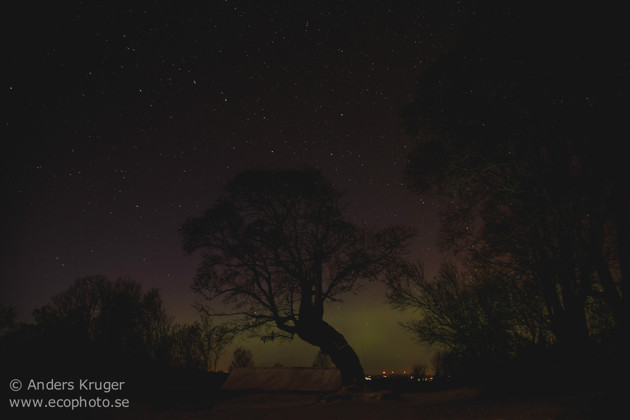 Källslätten a cold winter night is impressive. The open area and the complete darkness makes it a good place for star gazing and dreaming under the very old maple tree.

But summer time still excels. The apple orchard during blooming is a fantastic sight, not to be missed. The singing warblers, the meadows,..... It is not hard to understand why so many people take a Sunday walk and pick-nick up here.

The first time this place is mentioned in a document is back in year 1569, so it is a place with a long history. From that time the settlers have slowly shaped and increased the growthable ground by hard work. Cutting trees and cleaning the meadows from stone.The last farmer moved away from Källslätten 1954. After that the forest company STORA took over the ownership and most of the old buildings were pulled down. On the open land, on the meadows, spruce was planted. Twelve years later a small group, of young organised biology intrested people, started to clean up a part the garden and the orchard, under mutual understaning with the owner. This was the start of an admirable restoration by a non-profitable group. It is still ongoing.
Thanks guys!
Autumn colours can some years be fabulous up here. The mixture of mountain ash (rönn), maple and birch make up a spectrum of yellow-reddish colours, in contrast to the still green grass and the surrounding green spruce and pine forest. This year (2013) was spectacular intense in colours due to the dryness of the weather followed by some cold nights that boosted them even more.
Early autumn an earlier not so colour rich year.
Mid summer time and the medows are blooming in splendour.
With some patience and some luck, there are a lot of animals to encounter. Here a fox cub at a den close by. But there is also s chance to see some of the "big" ones here. Bear, wolf and lynx all walk these grounds.
In Källslättens lower parts all the water from springs and wells are collected in small dams, wich attract insects, snakes and butterflies. like these flirting ones.
The woodland surrounding Källslätten holds some nice wildish brooks well worth some investigation.
Winter time and everything has changed from warm and colourful to harsh, cold and colour poor. The song birds are gone and a peacfulness has entered the scene.