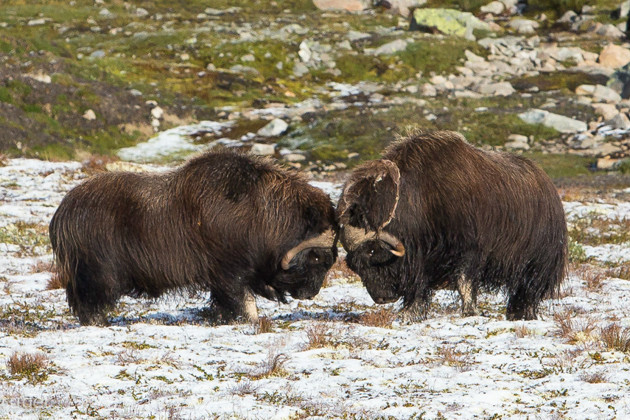 This bull fight was the highlight of our three-night tenting tour in the area. The sound, when 400 kg meat speeding at 30 km/h, collides bone to bone, can not be described in words, it must experienced to be really understod. Now I know, what is said, that the hit-sound can be heared kilometers away. It is like a shot!
It is a fortune to have had the luck to wittnesing this live, real live!
This family group was one of many small groups that could be seen around. Some, like this group were down in the vally, other far up un the moutain sides. Typically, the groups had around four to six animals. They seemed to be quite movable and some groups interacted with each other, under our stay. At times their movment surprised and some "to-close-encounter" occured, like the one below, when a shrub of willow reduced the sight. Suddenly a ox was standing there very close!
"Born free" and "Live free" is somehow equvialent with this place. But there are more to be amazed of here than just the musk ox, there are berries, bushes and shrub in autumn colour. There is interesting whitish lichen and much more to be admired by.
The Dovre mountain area is also famous for its wild-rein population. The "Scandinavian caribou". They have a seasonal migration around the whole mountain massif. With tremendous energy and stamina, they cross vallies from one high platou to another just as if is a "morning walk with the dog", so to speak.

I was lucky to locate and comming close enough to be able to take some photos of a couple of groups. When the second group came down the slope to cross the creek, it was like the great wilderbeast migration in Africa, in miniature.
Nevertheless, it was a quite interesting and memorable experience and that is what counts.